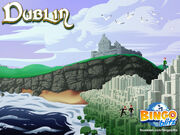 Dublin is a BINGO Blitz room unlocked at level 45. 
Room Details
Level unlocked: 45
Cost per card: 7 Credits
XP per daub: 12
Credit payouts: 7 to 168
Coin payouts: 260 to 2600
Collection Items
Leprechaun (Shadow Card only)
Four-Leaf Clover (Shadow Card only)
Dublin Castle (Free Gift item)
Pot O'Gold (Free Gift item)
Book of Kells
Blarney Stone
Aran Sweater
Fiddle & TIn Whistle
Giants Causeway
Stout & Soda Bread
Irish Stepdancing 
Grafton Street
Collection Completion Rewards
Upon completing this collection, you'll be able to collect a one-time payout of 200 Credits, a new Frame and a new BINGO Dauber! 
Ad blocker interference detected!
Wikia is a free-to-use site that makes money from advertising. We have a modified experience for viewers using ad blockers

Wikia is not accessible if you've made further modifications. Remove the custom ad blocker rule(s) and the page will load as expected.