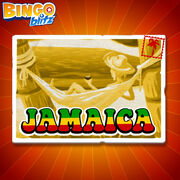 Jamaica is a BINGO Blitz room unlocked at level 55. 
Room Details
Level unlocked: 55
Cost per card: 8 Credits
XP per daub: 25
Credit payouts: 8 to 192
Coin payouts: 300 to 3000
Collection Items
Pelican (Shadow Card only)
Marlin (Shadow Card only)
Hammock (Free Gift item)
Dolphin (Free Gift item)
Steel Drum
Coconut Water
Jerk Chicken
Cricket
Mango
Snorkel & Mask
Reef Shark
Dunns River Falls
Collection Completion Rewards
Upon completing this collection, you'll be able to collect a one-time payout of 250 Credits, a new Frame and a new BINGO Dauber! 
Ad blocker interference detected!
Wikia is a free-to-use site that makes money from advertising. We have a modified experience for viewers using ad blockers

Wikia is not accessible if you've made further modifications. Remove the custom ad blocker rule(s) and the page will load as expected.