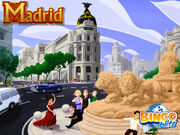 Madrid was introduced into BINGO Blitz back in early 2012.  It was one of the first newer rooms to become available to the lower level players.  Upon launch, this room had a difference; the winning BINGO pattern was a limited-time 'Stamp' pattern. 
Room Details
Level unlocked: 3
Cost per bingo card: 2 Credits
XP per daub: 2
Credit payouts: 2 to 48
Coin payouts: 60 to 600
Collection Items
Flamenco (Shadow Card only)
Tapas & Sangria (Shadow Card only)
Matador (Free Gift item)
Royal Palace (Free Gift item)
Buen Retrio Park
Jai Alai
Museo del Parado
Gran Via
Atoche Railway Station
Voyage of Columbus
Madrid New Year
Don Quixote
Collection Completion Rewards 
Upon completing this collection, you'll be able to collect a one-time payout of 100 Credits, a new Frame and a new BINGO Dauber! 
Ad blocker interference detected!
Wikia is a free-to-use site that makes money from advertising. We have a modified experience for viewers using ad blockers

Wikia is not accessible if you've made further modifications. Remove the custom ad blocker rule(s) and the page will load as expected.