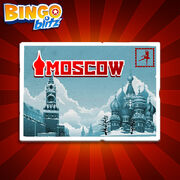 Moscow is a BINGO Blitz room unlocked at level 95.
Room Details
Level unlocked: 95
Cost per card: 12 Credits
XP per daub: 70
Credit payouts: 12 to 288
Coin payouts: 800 to 8000
Collection Items
St. Basills Cathedral (Shadow Card only)
Vodka (Shadow Card only)
Mir Space  Station (Free Gift item)
Caviar (Free Gift item)
Siberian Tiger
Ballerina (Ballet)
Matryoshkia Doll
Faberge Egg
Balalakia
Uhsanka
Kremlin
War & Peace (Book)
Collection Completion Rewards
Upon completing this collection, you'll be able to collect a one-time payout of 900 Credits, a new Frame and a new BINGO Dauber! 
Ad blocker interference detected!
Wikia is a free-to-use site that makes money from advertising. We have a modified experience for viewers using ad blockers

Wikia is not accessible if you've made further modifications. Remove the custom ad blocker rule(s) and the page will load as expected.