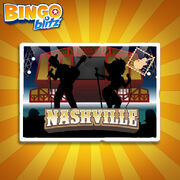 Nashville is a BINGO Blitz room unlocked at level 63. 
Room Details
Level unlocked: 63
Cost per card: 8 Credits
XP per daub: 33
Credit payouts: 8 to 192
Coin payouts: 340 to 3400
Collection Items
Whiskey (Shadow Card only)
Hatch Show Print (Shadow Card only)
Guitar (Free Gift item)
General Jackson Riverboat (Free Gift item)
Hot Chicken
Shelby Street Bridge 
Cowboy Hat and Boots
Parthenon
Grand Ole Opry
Marshmallow Pastry
Country Music Hall of Fame
Minnie Pearl
Collection Completion Rewards
Upon completing this collection, you'll be able to collect a one-time payout of 325 Credits, a new Frame and a new BINGO Dauber! 
Ad blocker interference detected!
Wikia is a free-to-use site that makes money from advertising. We have a modified experience for viewers using ad blockers

Wikia is not accessible if you've made further modifications. Remove the custom ad blocker rule(s) and the page will load as expected.