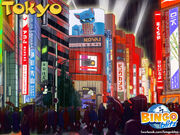 Tokyo is a BINGO Blitz room unlocked at level 40. 
Room Details
Level unlocked: 40
Cost per card: 6 Credits
XP per daub: 10
Credit payouts: 6 to 144
Coin payouts: 300 to 2400
Collection Items
Kaiju Eiga (Shadow Card only)
Samurai Armor  (Shadow Card only)
Cherry Blossom (Free Gift item)
Katana (Free Gift item)
Sushi
Koi
Sumo
Geisha
Mount Fuji
Shinto Shrine
Chopsticks
Akita Inu
Collection Completion Rewards
Upon completing this collection, you'll be able to collect an additional 12 Daily Credits every day you log in.
Ad blocker interference detected!
Wikia is a free-to-use site that makes money from advertising. We have a modified experience for viewers using ad blockers

Wikia is not accessible if you've made further modifications. Remove the custom ad blocker rule(s) and the page will load as expected.