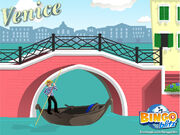 Venice is a BINGO Blitz room unlocked at level 30.
Room Details
Level unlocked: 30
Cost per bingo card: 5 Credits
XP per daub: 8
Credit payouts: 5 to 120
Coin payouts: 250 to 2000
Collection Items
Medico Della Peste (Shadow Card only)
Da Vinci's Invention (Shadow Card only)
Glass Goblet (Free Gift item)
Prosecco (Free Gift item)
Mask
Balicoli
Silk
Printing Press
Violin
Gondola
Statue of David
Column
Collection Completion Rewards
Upon completing this collection, you'll be able to collect an additional 10 Daily Credits every day you log in.
Ad blocker interference detected!
Wikia is a free-to-use site that makes money from advertising. We have a modified experience for viewers using ad blockers

Wikia is not accessible if you've made further modifications. Remove the custom ad blocker rule(s) and the page will load as expected.