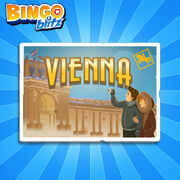 Vienna is a  BINGO Blitz room unlocked at level 87.
Room Details
Level unlocked: 87
Cost per card: 12 Credits
XP per daub: 58
Credit payouts: 12 to 288
Coin payouts: 1160 to 11600
Collection Items
Vienna State Opera (Shadow Card only)
Johann Strauss (Shadow Card only)
Sigmund Freud (Free Gift item)
Sachertorte (Free Gift item)
Weiner Riesenrad
Wolfgang Mozart 
Ballroom Dances
Spanish Riding School
Apple Strudel
Weiner Schnitzel
Danube River
Einspanner
Collection Completion Rewards
Upon completing this collection, you'll be able to collect a one-time payout of 750 Credits, a new Frame and a new BINGO Dauber! 
Ad blocker interference detected!
Wikia is a free-to-use site that makes money from advertising. We have a modified experience for viewers using ad blockers

Wikia is not accessible if you've made further modifications. Remove the custom ad blocker rule(s) and the page will load as expected.